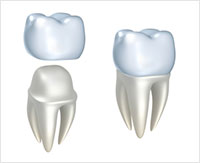 How does CEREC Same Day Dental Crown Technology work?
CEREC uses computer aided design and manufacturing technology, using a camera, computer and milling machine in one instrument. Dr Coates uses a specialized camera to take an exact picture of the damaged tooth. This image is transferred and displayed on a color computer screen, where Dr Coates uses the computer to design the dental crown. The same machine creates the dental crown while the patient waits. Finally, Dr Coates bonds the dental crown to the surface of the old tooth. The entire procedure takes around one hour.
What does CEREC Same Day Dental Crown Technology mean for a patient?
A CEREC Same Day Dental Crown means no more silver fillings that discolor your smile. The same day dental crown is absolutely natural-looking, compatible with the tissue in your mouth, anti-abrasive and plaque-resistant. Dr Coates no longer needs to create temporary dental crown or take impressions and send them to a lab. Because of this, there will be no return visits. The CEREC Same Day Dental Crown Technology has over a decade of clinical research and documentation to support the technology. CEREC Same Day Dental Crowns have been proven precise, and tested safe and effective.
Please call our office to schedule a consultation.